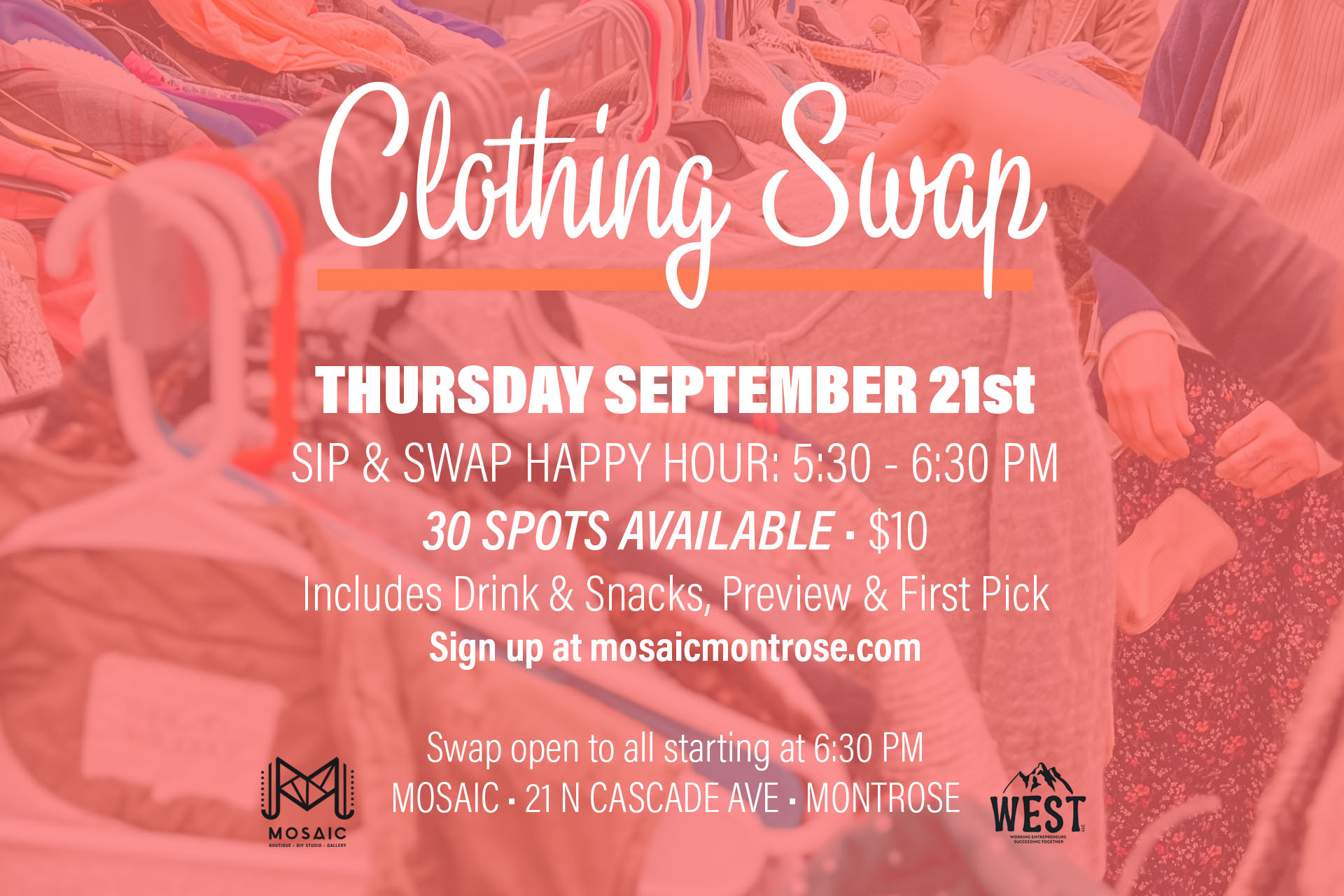 Clothing Swap
We are doing it again!!! Join us for our fall clothing swap September 21st.
Clean out your closets and refresh your wardrobe!
***********
HOW IT WORKS:
We are opening the swap up to 40 people.
The first 30 people to sign up will get access to the Sip & Swap Happy Hour from 5:30pm – 6:30pm which includes your first drink (wine, beer, seltzer and NA bevs available), snacks, time to preview the goods and the number drawing to get your first picks, for just $10. If you don't get one of the 30 happy hour spots you will be able to join the swap at 6:30pm.
At 6pm everyone will draw a number and get to pick your favorite item. Once we have gone through all the numbers, you may take whatever pieces you'd like.
This event is for individuals wanting to refresh their personal closets. Resellers are welcome to shop the fill-a-bag sale following the swap event.
************
WHAT YOU CAN BRING:
This event is gender and size inclusive! Women's & Men's clothing, shoes, bags, jewelry, hats, scarves, accessories.
Teens are welcome too!
*Save your baby, kids and small junior items for a future Kids Swap this winter.
There is typically a large range in sizes available and all types of items from basics to brand new high-end brands.
Only bring items that are still wearable (don't bring items with excessive stains, holes, etc)
***Bring your own bags***
************
WHEN TO DROP OFF:
You may drop off your items between September 12th – 21st at Mosaic (21 N Cascade Ave) during regular business hours (Tues – Fri 11-5:30, Sat 10-4).
Please make sure you drop off your items by 5:00 PM on the 21st.
************
POST-SWAP:
Any items left over after the swap will be included in the $5 Fill-a-Bag Sale on Friday 9/22 (11-5:30) & Saturday 9/23 (10-4).
Proceeds from the sale will be given to the Montrose Recreation Foundation to go toward the purchase of sport wheelchairs.
Any items left after the fill-a-bag sale will be donated to a local non-profit (TBA).
************
If you have any questions, feel free to DM @mosaicmontrose, email us at [email protected] or call 970-787-2441