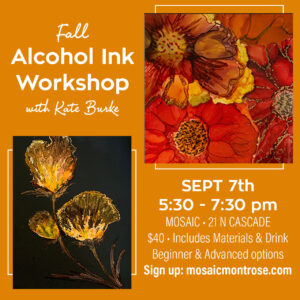 Join Kate Burke to create some fall inspired alcohol ink art. No experience necessary. We provide instructions & demonstrations. Get realistic, or just go wild, experiment, and see what you can do. We bring ink, ink pens, papers, latex gloves, special tools—everything you need.  You'll be surprised how easy it is.  Plus you get a drink
...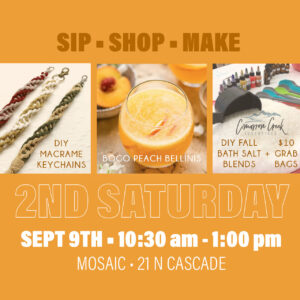 Drop-in anytime from 10:30 am - 1:00 pm for Mosaic's Second Saturday and enjoy peach bellinis, diy macrame keychains, diy fall bath salts, Cimarron Creek Essentials $10 grab bag sale and more!
...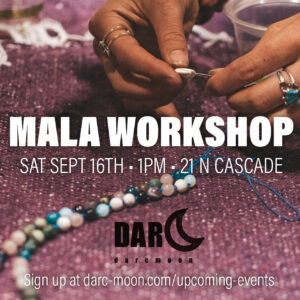 Join DarcMoon for a hands on workshop where you will learn to create a Mala! You have to choice between creating a Mala Bracelet or a Full Length 108 Mala Necklace!
...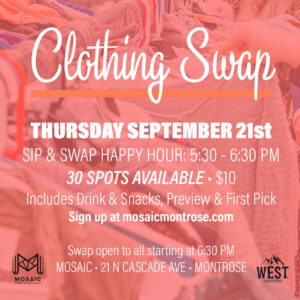 We are doing it again!!! Join us for our fall clothing swap September 21st. Clean out your closets and refresh your wardrobe!
...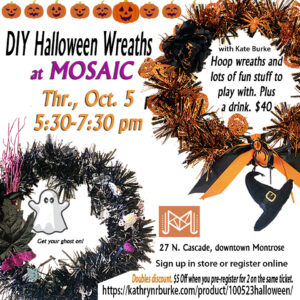 Join Kate Burke to make a Halloween wreath for your spooky season decor! We will provide black metal hoop wreath and lots of fun haloween-y items to decorate your wreath with. We also have fall florals and a few grapevine wreaths left if you want to make a fall wreath and missed the last class.
...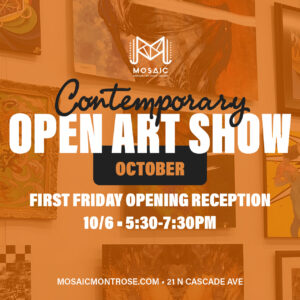 Calling all contemporary artists! You are invited to be part of the October Open Art Show!
...
No event found!